Our Rates
*APRs are Annual Percentage Rates and represent the lowest rate possible for each product. APYs are Annual Percentage Yields and represent the highest possible rate for each product. Terms and conditions apply. Rates are subject to change without notice. Click individual rates above for full details and disclosures.
Why GFCU?
A full-service suite of products and local decisions mean you can expect transparency with your money, putting you in control of your finances.
We strive every day to make it easy for you to do business with us. It's our mission and our focus. Our founding members formed the credit union for the benefit of their community, as well as for all future generations of members. That's why when you join GFCU, you're not just a transaction – you are a part owner and contributor of our financial institution. We believe in people helping people where it matters the most – right here at home.
About Us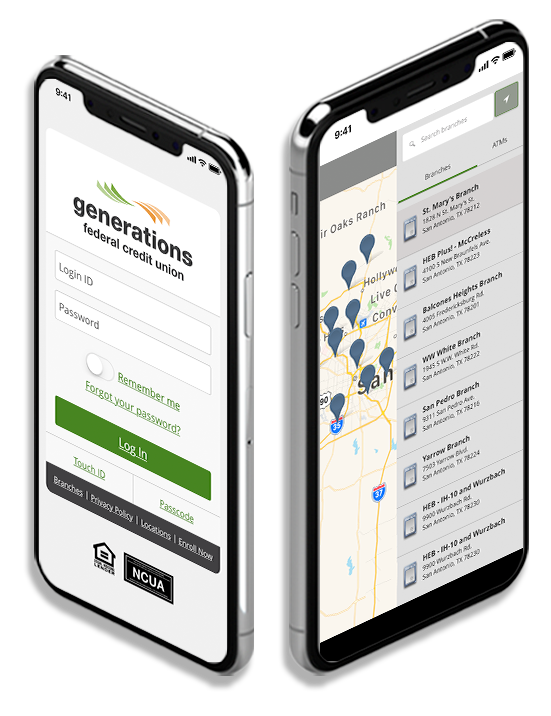 Our
Services
Manage your money easily? Check.
Whether you're on the go or in the comfort of your home, you can access your accounts quickly and conveniently with our online banking platform, mobile banking app, extensive ATM network and shared branch locations. Plus, with access to additional membership perks like GreenPath and Generations Academy, you have even more resources to help you build a strong financial future.
Additional Services
#GFCUCares
We were built by the hard-working people in our community, and staying true to our roots is one of our highest priorities. We give back through partnerships with local organizations, charity work and staff volunteer events.
Learn More about GFCU Cares
2023 Corporate Cup Charity Donation
Generations FCU had the great privilege of presenting local charities with donations totaling $57,128.81. This amount was raised by GFCU staff, members, and community partners in our bid for the 2023 Corporate Cup Charity Challenge title.
May 10, 2023
See Details
National Police Week
We had the great honor of visiting the San Antonio Police Department, Balcones Heights PD, and Castle Hills Police Department stations on Friday, May 12th. Our #GFCUCares Team went out to share our gratitude and sincere appreciation for their sacrifice and unwavering dedication.
May 12, 2023
See Details